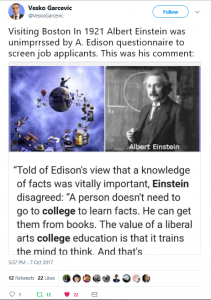 Okay. I admit it. I love Twitter. I often find out what is happening in the world by following news and information threads.  See #RedSox, for example. But not this week.
The Twitterverse is teaming with inspirational quotes, opportunities to peer quickly into the minds of others (for good or ill!) and creates a place for community and conversation.
The other day I caught this quote from Einstein posted by a Boston University professor:
Told of Edison's view that a knowledge of facts was vitally important, Einstein disagreed. "A person doesn't need to go to college to learn facts. He can get them from books. The value of a liberal arts college education is that it trains the mind to think. And that's something you can't learn from textbooks."
Einstein's quote was never more true in this age of burgeoning information. Replace the word "books" with "the internet", then replace the word "textbooks" with "a search engine", and it is obvious that this sentiment is truer today than when it was spoken nearly 100 years ago.
This dramatic uptick in information is evident in the way companies choose  which information to store and transfer, and affects the types of skills and training that the modern corporation must encourage to grow and prosper. Today, a company's money is well spent on teaching discernment about the relative merit of almost limitless information and on educating employees about the application of the relevant to the task at hand.
Translation for your corporate knowledge management plan:
1. Discern what information is critical and particular to your organization
2. Spend your finite resources to preserve and transfer that information to your employees
3. Spend the rest of your training dollars teaching people how to think, discern, and apply what they know to your challenges
Take it from Einstein.
[Thanks to Boston University Professor of International Studies Vesko Garcevic for the Tweet. Follow @VeskoGarcevic ]