Finding Your SMEs: Capturing Knowledge from Retiring Subject Matter Experts in Your Organization Before They Leave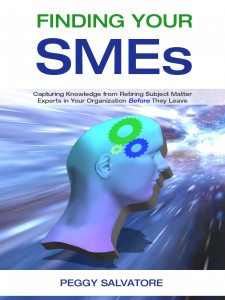 You consider your company a forward-looking learning organization. You want to get knowledge management down to a science.
So you are you wondering…
What happens when the mass exodus of Baby Boomers leave and takes their expertise with them?
Have we replaced our retiring workers?
Can we replace our experts?
What will happen to our core business if we don't replace them?
How can we prepare younger workers to learn what our legacy employees know?
If you have asked yourself these questions, this book is for you.
Finding Your SMEs: Capturing Knowledge from Your Subject Matter Experts in Your Organization Before They Retire gives you a way to analyze your company and its value to your customers so you can identify your most critical assets that you must preserve for business continuity.
You will also learn:
where to find the places your experts reside in your company
which assets are worth spending your finite resources to capture
how to determine if you are capturing expertise correctly
what to consider when you project your future knowledge needs
why you need to consider technology options for preservation methods and training platforms for transferring knowledge from your experts to future generations
Working with SMEs Overview from Balboa Press
Gathering information about a subject and collecting that information from experts is the core process involved in writing a valuable corporate training program. When an instructional designer is writing training that is dependent on the knowledge of others, it is helpful to have schedules and plans for communication, accuracy, and accountability. Working with SMEs offers a framework on how to connect with the correct experts and uncover what they know. The book then gives you the tools and checklists necessary for getting the most out of your subject matter expert.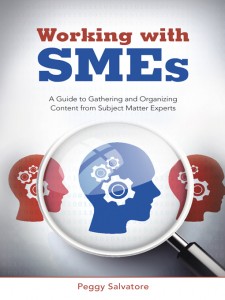 Click To Buy The Book From Balboa Press