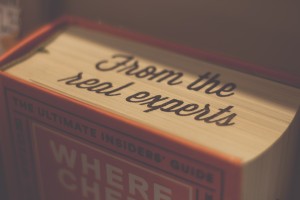 A colleague who read my book Working with SMEs approached me and posed the question, "What is the difference between a thought leader and a subject matter expert?"
She didn't ask the question as a challenge, and I don't think she expected an answer on the spot. She asked it in an exploratory way. We looked for a moment at each other, and I said I would think about it. I knew there was more to the distinction than an easy definition of each term. For the last two months, I've been thinking about it.
Another colleague recently said she is sick of the term "thought leader" and thinks it has become overused and meaningless. I agree that the term and concept is in vogue, but after much consideration, it is not meaningless. If someone is known as a thought leader, they are someone who has earned recognition for their opinion because their experience gives them a catbird seat on a particular issue. The term "thought leader" is only meaningless if someone refers to themselves that way.
I liken "thought leader" to the term "sensei" because it is not an honor you can bestow upon yourself. When I studied Lean, I encountered a man who referred to himself as a sensei or "wise one". Other Lean practitioners took me aside to explain that he had committed a faux pas because one does not refer to oneself as a sensei. It is presumptuous. Other people may refer to you as a sensei, but you may never call yourself one. In that way, just because someone calls themselves a "thought leader" does not make it so.
Thought Leaders Have Perspective and Vision
A thought leader is someone who has perspective due to their vast and deep experience in an area. They are sought by others to share their opinions with the group to help others gain perspective. Because of their perspective, thought leaders also have vision. They can usually see around corners into the future. Due to their perspective and often (but not always!) deep experience, a thought leader can make an educated guess about the direction events will take. A true thought leader earned it through years of deep thought about an  issue, and sometimes after years of making mistakes, too, giving them vaunted vision about the way things could be .
Thought leaders usually have some sort of platform. It could be within their organization, industry or profession. It may be a broader platform like the New York Times where a columnist can inform and influence millions of people. The visibility of a platform like the New York Times will catapult someone into thought leadership.
Thought leaders are exactly that – they have thought about things a long time, have opinions that are valuable and valid based on their background, and are willing to be out in front of the crowd leading others in a certain direction.
Last year, I spent four days attending a live, online seminar by author, speaker and trainer Brendon Burchard called the Thought Leader Roadmap. I wanted to see what he had to say about thought leadership. He is of the opinion that you can either be a thought leader by experience or you can become one by studying an issue in depth and then speaking out about it from a position of knowledge after repackaging what you've learned from reading and interviewing experts.
Which neatly leads us to the difference between thought leaders and experts.
Experts Have Deep Knowledge about a Subject
Some academicians have actually come up with a literal definition of a subject matter expert. An expert is someone who has studied a topic for about 10,000 hours or at least five years. Many true experts in complex topics like physics and biochemistry become experts only after 20 years or more of diligently working in the field. However, their subject matter expertise does not necessarily make them a thought leader. Some of the world's greatest SMEs are unknown people toiling in the corner of a lab somewhere. They aren't leading anything or anyone. However, they may be blazing trails in science or technology that very few people will ever know about, except that your smartphone knows where you are, your Internet connection gets more reliable every year, and cancer is now considered a chronic disease in some circles.
A SME is not always the brilliant biochemist in the corner lab, though. A SME in your organization is someone who knows something very well after years of being in your company. You have subject matter experts who know your business deeply and possibly even irreplaceably in accounting, sales, engineering, manufacturing and administration. They aren't thought leaders. Most people don't know what these quiet SMEs are thinking or even know who they are. And for the purpose of being a SME in their corner of the world, the concept of thought leadership is irrelevant.
Some SMEs are thought leaders, but being a SME does not make you a thought leader. Most, but not all, thought leaders are SMEs.  However, if you are a thought leader in your field either because you put yourself out there as one or other people turn to you as one, you will eventually need to develop deep and broad expertise. If you are a thought leader and not an advanced expert, your thought leadership will have limited value. Yes, some people are always behind you and those people will regard you as a leader. Others who are true SMEs look to thought leaders who have the same or greater level of expertise, so the farther ahead you are in your field the more people by sheer numbers are behind you.
A thought leader who is a SME with deep and broad knowledge is suited to lead many. A thought leader who is developing their expertise but willing to step out front will lead fewer. Both will have impact but one will have much greater influence on the future because they are speaking into many lives.
How would you define a thought leader? Who do you know who you would consider a thought leader?