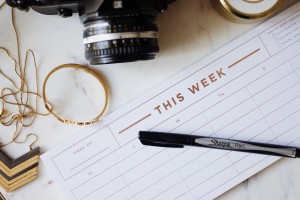 The week between Christmas and New Year's Day is typically one that is slow or completely non-existent for business. Traditionally, I use that week to do a lot of offline activities to plan for the upcoming year. This year I took two great online courses, and decided to build one of my own in 2018.
First, the plan.
The last few years, I went through Michael Hyatt's Your Best Year Ever online course and found it very helpful in the way it structures your planning process, challenges your assumptions, pressure tests your goals and is full of logical advice. He has captured the course in a book that launches today, Tuesday January 2, and if you grab it now it comes with some bonuses available until the end of the week, Friday January 5. His bonuses are terrific  and will help you apply what you learn in the book. If you are still in your planning stage for 2018, I recommend it. Here's a link that will get you the book and bonuses.
As part of my 2018 goals, I am going to build an online course to accompany the launch of my next book due out later this year. The book, Retaining Expert Knowledge: What to Keep in an Age of Information Overload, takes the Working with SMEs series into some new territory. Writing this book met one of my 2017 goals to write a book with a major publisher, and I am very happy about meeting that goal. (More about the upcoming book in later blog posts.) Writing a book is just the first step, however, because it is getting the book and ideas out to the public that is the most important part of the process.
As part of that effort, I am going to build an online course to help readers apply the content of Retaining Expert Knowledge to their areas of expertise and their companies. Which leads me to the second course I took last week.
Executing the Plan
Big plans are accomplished one small step at a time. As Michael Hyatt says in his course (paraphrased), you only need to take the next small step to attain big goals. If your goal is big, hairy and audacious enough, you won't know exactly how to get there. Hyatt advises that you set goals outside your comfort zone and take the very next small step that you can see, and it will usually appear in the form of resources or some kind of help that you need. That is exactly what happened. I had signed up with an elearning hosting platform, and they offered a course to make the most of your investment.
For three days, I delved into how to use this particular online platform and now I am very excited about building and presenting an online course for Retaining Expert Knowledge.
The course reminded us:
Online learning is mainstream.
Education is now lifelong.
People want bite-sized information.
Information wants to be free.
The size of the online opportunity is about to explode.
Learning from Experts
For those experts who read this blog and the trainers who work with them, that list tells us that we've only just begun. As knowledge and information explodes, we have so much to share and people have less time to absorb it. It is a great time to share what you know and do it in a way that you can reach a lot of people.
Massive amounts of information are free or very inexpensive. Because information is free, you have to earn the space you take up in someone's brain. Keep it short. Keep it relevant. And provide value. Blogs are one of the new "free information" sources, as well as endless streams of webinars, podcasts and more.
That is why when building a course for sale, experts need to build premium courses.  Your Expertise 101 is free, and Your Expertise 301 premium course has some price attached to it as well as support that helps your learners apply the information.
Today is the first workday of 2018. It is exciting to do what we love. And it is equally exciting to share what we love. If you are an expert in some area and have something to share or teach, think about the fact that adult learning is all-the-time, online, bite-sized and much of it is free.
You don't have to wait to be asked. Get out there and share what you've got. People want to know. You can be part of the knowledge explosion.