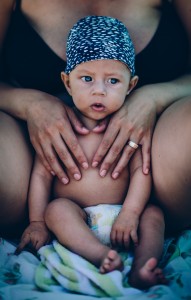 The world's oldest profession is not what you think! Training is actually the world's oldest profession. When the first human babies popped out of the first human mamas, the mamas immediately ramped up knowledge, skills and attitudes transfer. I wasn't there and haven't actually seen this documented, but it is a fairly safe bet. If mama didn't transfer her acquired wisdom to her child, the species would not have survived. And therein lies the foundation for my assumption.
You can eat this, it's safe.
Stay away from that animal, it's dangerous.
Put one foot in front of the other like this.
And don't forget to put your napkin in your lap and start with the silverware on the outside of your place setting.
Mamas have been keeping babies safe and viable in their environment by imparting acquired wisdom from the beginning of time. So I rest my case. Training is the world's oldest profession.
Extending this example, critical just-in-time information is the heart of training.
Early childhood learning is all about see one-do one: Tie your shoes by bringing this loop around.
Early childhood learning is about immediate feedback: I told you not to touch the stove!
Early childhood learning is about mentoring: Next time she teases you, tell her how she makes you feel.
Just-in-Time Learning Works
Early childhood learning relies on these strategies in the moment because they work. Those same methods have served industrial and business knowledge, skills and attitudes transfer since we hammered out the second wheel. Again, I wasn't there but it is a safe assumption that the human who smoothed out the rough edges on the first wheel figured out a plan for replicating the process and told the next person. And it became the way it was done.
Early childhood education from mother to child is about the value of short, demonstrative, and immediate learning opportunities.
In the fashion of the watchful caregiver, the uptake of just-in-time educational videos and smartphone reminders allows employees to have tutors and mentors at their fingertips all day long. The training industry is learning how to take advantage of this development in on-demand learning. Short video and electronic smartphone snippets of on-the-job training and reminders are sophisticated extensions of the old fashioned paper job aid posted in a work station.
These electronic job aids provide heretofore impossible access to experts. No matter what your experts do for you, whether she is the best assembler on the floor or he is the best accountant in your department, make sure they are documenting their actions using short, transferable snippets because all the pieces of their aggregated wisdom becomes the bedrock of knowledge transfer.
You can build larger and more intensive learnings from these pieces, but it is important to collect these learning components in situ.
Humans learn best in the moment, when they need it. Capturing and preserving information from experts to be accessed on an as-needed basis is the foundation of knowledge transfer for your organization.
What is your experience of using JIT learning? We welcome comments below.
Photo courtesy of Unsplash by Janko Ferlic, Koper, Slovenia