Today I am posting an excerpt From Working With SMEs. Can you relate to this concept?
Ideally, your SME is on the third level of the four stages of learning continuum and is a Conscious Competent.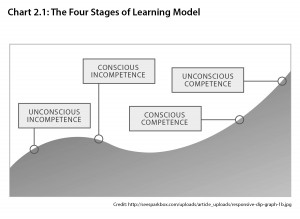 When your SME is a Conscious Competent, that means she is aware of what she knows, and she is able to tell you. Since such a SME is still on the learning curve herself, not having reached the state where her knowledge is unconscious, she is closer to her own training and remembers what it is like to be a naïve learner. By remembering what it is like to not know, the SME will better remember how she acquired the knowledge or skill that is the subject of your training program, and by extension, how to explain it in a linear way to you.
Briefly, here is how a SME at each level of competence will affect your information gathering process:
Unconscious Competent: When you are gifted with a SME who has risen to career heights in a specialized field and can still explain what she knows, you have truly unearthed a gem. You will both find the tools in this book helpful to organize that a lifetime of knowledge into small, digestible, relevant chunks for you and your learners. Simply, she is such a vast repository of information that she really does not know how much she knows and how well she knows it. It is your job to unearth the gems and help her break it down into simple steps.
Conscious Competent: When you have been given the bright, up-and-coming SME who is still ascending the ladder of knowledge, these tools will help you focus on the important pieces of information that you need to assemble for your learners and identify the additional resources to fill in gaps as they arise.
Conscious Incompetent: When you are faced with a SME who lacks the needed knowledge, we have some tips in the next chapter for that situation. Our recommendation, though, is that you search to find a Conscious Competent SME. It will save you time and effort in the short and long run.
Unconscious Incompetent: It happens. You can be given a know-nothing SME. This is the worst of all possible worlds. The book discusses how to deal with this situation, as well.
What has been your experience working with subject matter experts?